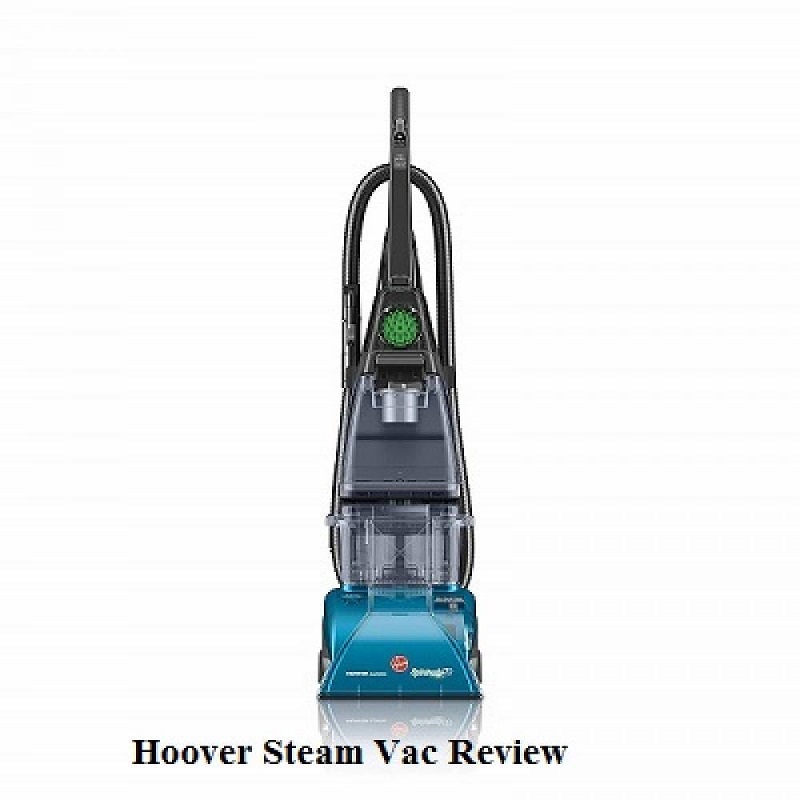 Let's Check Hoover SteamVac Reviews 2020. The Hoover Steam Vac cleaner is one of the leading products for steam cleaning, which is one of the reasons it is so popular. The Hoover Company was established in 1907 and was named after W. H. Hoover who purchased the patent. The whole Hoover story started when the first suction sweeper was invented.

Since then, the company continued to provide high-quality cleaning solutions for home use and commercial establishments use. Some of the cleaning solutions invented include carpet cleaners, steam vacuums, boiler, and another specialty vacuum. However, in 2007 the TTI Floor Care Company and Hoover joined together. Let's work for review Hoover SteamVac Review here.
Hoover Steam Vac Features
Some of the outstanding features of Hoover Steam Vac features include the following:
It removes dirt at any angle through the multi-directional brushes.
It is can be used for both gentle and normal cleaning.
It is a control button that stops the scrubbing brushes to avoid scratches in hard flooring.
Removable brushes
Clean Surge Control
Heated drying
8″ stretch hose
Dual tanks
12 amp motor
Upholstery/carpet detergent
Spinscrub – It removes dirt at any angle through the multi-directional brushes.
According to customer reviews, the Hoover Steam Vac carpet cleaner is indeed an extraordinary product. When you buy the Hoover Steam Vac cleaner with a clean surge you can ensure that it will work thoroughly deep clean. Even the most stubborn dirt and stains in the carpet is removed. Moreover, Steam Vac has different models and you should look at every detail of each model so that you can find the best one that suits your needs.
Pros
Works quickly and efficiently
The cord is more than adequate for most people's needs.
Its easily maneuver with one hand.
Changing/emptying/refilling tanks is easy and fast.
Cons
The drawback of Hoover Steam Vac cleaner is that it requires a longer time of cleaning the parts after use. Also, some people have mentioned that they have had problems with their new Hoover Steam Vac leaking. Fortunately, this is easily solved in that all you need to do is to squeeze the trigger and push the Clean-Surge button to lock a rod into place. Push the Clean-Surge button firmly. There may be a loud SNAP which sounds like you broke something, but you didn't. Until you get that snap, the Clean-Surge which releases extra water-cleaner solution is on all the time, which is what causes it to leak.
Prices
Despite the fact that Hoover's products are top buys they are available at a reasonable price. This is one of the reasons why almost every home should have a Hoover Steam Vac cleaner. The good thing about the hoover steam vac is that there is a wide range of models. This means that customers can choose the product that would suit the needs as well as their budget. The price of the vacuum depends on the model of Hoover and its features.
Why Choose Hoover Steam Vac?
All products are guaranteed to give excellent performance and durability. Unlike other brands, Hoover manufactures appliance that is built with credibility and strength. They are not copying other technologies instead they made their own technologies that stand out among their competitors. The innovative technology is apparent in the Hoover Steam Vac that is empowered by spin scrub brushes. It is a set of multiple spinning scrub brushes that work together. The spin scrub brushes are perfect for deep cleaning in such a way that all the spots are scrubbed well by the Hoover Steam Vac cleaner.
Supreme Deep Floor Cleaner
This model of Hoover Steam Vac is capable of cleaning the floors in both forward and backward directions. This allows double cleaning capability and is equipped with a two-tank system separated used for storage of clean and dirty water. Users of this Hoover Steam Vac testify that the deep cleaning power of this vacuum is incomparable with professional steam cleaners. That is why investing in this shark vacuum cleaner is much economical and valuable in the long run.
Spinscrub Pet
The Hoover Steam Vac Spinscrub Pet is a cleaning machine that offers excellent features. It has five spinning brushes that work at two different speeds. The Clean Surge is used on tough stains and has 8" length hose that comes with upholstery nozzle and kit. It is not only perfect for carpet cleaning but also for furniture. Yet, you can obtain this steamer at affordable prices.
Hoover Steam Vac Dual V F7425-900
If you are looking for versatile steamer you can consider the Dual V F7425-900. This model of Steam Vac can clean carpets, linoleum, upholstery, marble, tile and other hard floors. It is very easy and convenient to maneuver as well as for transitions. It is very easy to switch on and off because of the flipping switch. It also features auto rinse in which the cleaning solution is automatically removed from the floor.
Tips to Get the Best Result
One of the easiest ways to find the best right Hoover Steam Vac cleaning vacuum for your needs is to do is search online for customer's reviews. The good thing about reading testimonials of customers is that you will be guided in making the right decisions.
Dual tanks – choose a steam cleaner that has a dual tank in which clean and dirty water is stored separately. Make sure that the size is moderate so that it can fit in the kitchen sink to fill up, yet you can also finish the cleaning job without refilling the tanks. Let's check the video.
Clean Surge feature – Choose Hoover Steam cleaners that feature Clean-Surge so that stubborn stains can easily be removed. It is very simple to use the Clean-Surge by pressing the button. And once the stain is removed you can release the button that enables the vacuum to dry the wet spot.
Self-adjusting brushes – In order to obtain good results, you should choose Hoover steam cleaners that have rotating Spinscrub brushes that work well in removing dirt from the carpet. The brushes are multi-directional and the speed is adjustable.
Heated drying feature – Choose a steamer that is powered by 12amp motor that is sufficient in suctioning water and at the same time in cleaning carpets.
Size and weight – If you are planning to buy a vacuum cleaner you should consider the storage space you have and the convenience of lifting the machine.
Versatility – As much as possible choose a vacuum cleaner that can clean different areas and stuff.
Conclusions
We hope you enjoy to read Hoover SteamVac Review. Now the decision is yours. The Hoover Steam Vac overall is well worth the money you spend on it and should last you many years, saving you an absolute fortune in professional cleaning bills.