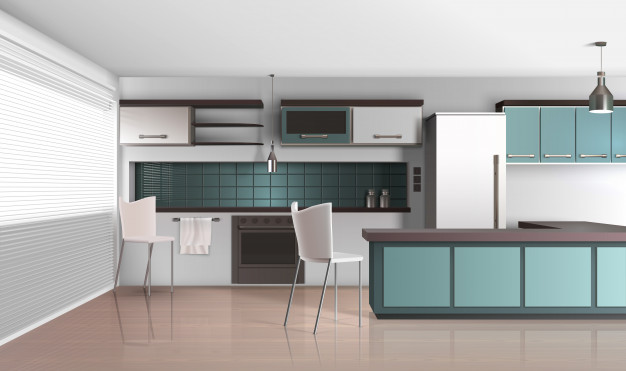 Choosing your flooring option seems never been easy. Technology is always evolving and presenting us with extraordinary choices. One of those choices is laminate flooring that can be easily an alternative to tile flooring. It has properties that tile would envy to have; however, it also has its limitations. In this following article, we are going to discuss laminating to help you make a decision whether laminate flooring is a good option for you or not. Stay tuned if you have similar questions or just browsing your options.
Laminate Floor Tiles
Laminate floor tiles consist of multi-layered synthetic flooring products that are fused together by a lamination process. This type of flooring mostly simulates wood or stone flooring patched with a clear protective layer. The core layer is often made with raisins or fiberboard materials. Over time this kind of flooring has gained popularity because of its easy installation process and for requiring less maintenance than traditional floorings like hardwood. Additionally, laminate flooring is pretty easy to install, cost-effective, durable, and hygienic. Therefore, people nowadays highly consider lamination as an alternative flooring option.
Pros and Cons of Laminate Tiles
There is no flooring material that doesn't possess its own sets of pros and cons. We are going to discuss various factors of lamination tiles down to the advantages and disadvantages that laminate flooring can bring for you.
Installation
The first and foremost factor that can bring out a difference between lamination and other flooring options is installation. In the manner of installation, laminate flooring certainly is a winner. This kind of flooring is installed on top of a vapor barrier. This barrier helps the flipside of the lamination protect from moisture contents. The blocks of lamination can be easily connected with a mallet and tapping block. The blocks are fairly lightweight and can be installed pretty quickly once you get the hang of the system. One can easily install these blocks all by himself with the help of a tape measure, and table saw.
Appearance
Laminate can feature a range of colors and sizes and can effortlessly turn the room into a piece of beauty. All the blocks of the lamination lock together for a tight seal which can make it easier to clean. Additionally, it is pretty user-friendly and comfortable to walk on. Laminate flooring is not directly attached to the foundation; therefore, it doesn't absorb the heat directly. Depending on the weather of your home area, the Lamination flooring can be pretty warm or cool than the outside temperature.
Durability
The lamination flooring comes in short in durable capabilities. It has some durable properties, but the cheaper products can easily develop scratch marks and get weathered. However, some companies are now working to make the lamination boards scratch and weather resistant. In addition, Lamination can be completely waterproof as it doesn't require grouting, unlike tile flooring. Your bathroom can also feature laminate flooring, however, keep it away from the shower.
Maintenance
Maintenance may be the best factor for laminate flooring. As it features no grouting, sweeping, and vacuuming, your floors get much easier. As long as you don't use much water, sweeping, and moping, your laminate flooring is free of damage. However, Swiffer WetJet and wiping with a dry cloth may be required for stubborn dirt.
Repairing
As the lamination flooring is locked wall to wall, it's pretty hard to repair. If you have a damaged laminate board on your flooring, you'll require to start working from the closest wall from the broken board and work your way towards it. Sometimes, it may require removing almost half of your floor to repair one damaged board.
Demolition
In the case of removing the lamination flooring, it can be quite easier. With proper muscle work, one can remove the lamination flooring within a few hours of honest work. Tear up some pieces of laminate flooring, and then remove the panels one by one. If the boards are in good condition, one can reuse them or even resell them to manage the cost of one's new flooring.
Resale Value
If you are selling your house, almost all of the materials that you installed previously can add to the value. However, laminate flooring can add very little value to your house and is often frowned upon by buyers. Nowadays, only thicker and high-quality laminate flooring can bring a significant resale value to your home.
Laminate flooring is a pretty new addition to modern flooring, and it is here to stay. Unlike tile flooring, laminate flooring costs less and easier to maintain. However, from ancient times tiles are wearing the crown of the best flooring option, and it's really hard to beat. No other flooring industries are as organized as tiles, and that always gives the tiles an edge over the competition. However, when you are choosing your flooring option, always weigh the pros and cons and find out what would be the best option for your house. That way, your home can achieve the full potential that will amaze you and your guests as well.