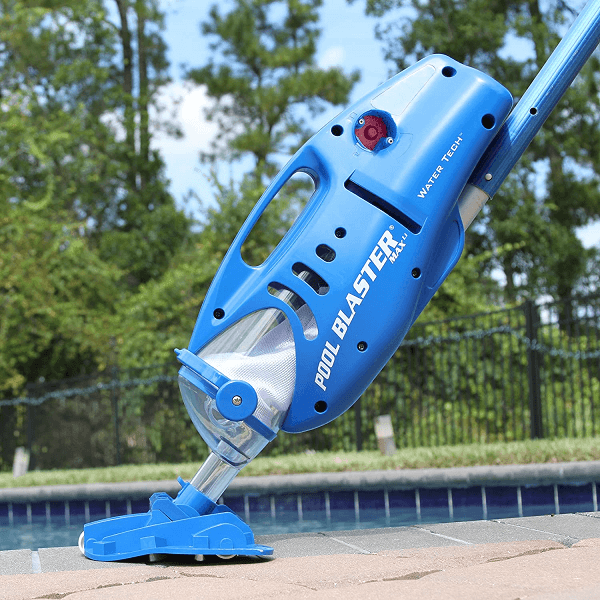 The stress of maintaining the neatness of your pool can be much especially for those individuals having above ground pools. That aside, there are many kinds of vacuums for Intex pools. However, after deep research, we have decided to compile the best above ground pool vacuum for Intex.

We know as well that searching for the best and right product could be so hard because of the varieties and competition out there. There are too many vacuums for Intex Pools reviews also to confuse you.

This review is comprehensive and we have listed 9 top-rated products with their features, pros, and cons for you to easily make your choice. Sit, relax with a cup of your favorite drink while you read through this exciting piece.
Best Above Ground Pool Vacuum for Intex Review
1. Intex Auto Pool Cleaner
The Intex Auto Pool Cleaner is our first choice vacuum for above ground Intex pools. It is a powerful pool cleaner that is excellently designed for Intex pool owners.
You don't have to stress much because this device will automatically vacuum and clean the whole pool floor within minutes. Attached to the vacuum is a 24 feet hose that can easily fit Intex inlet connectors. Though this may not be best for in-ground pools.
Features of Intex Auto Pool Cleaner
Needs a filter pump with a specific flow rate of 1,600 – 3,500gph
Easily attached to inlet connector in the pool
Designed for above ground pools with 1 and a half inches hose fitting
Detailed manual for maximum performance
Replacement parts are easy to get in the market if necessary
Pros:
Portable
Budget-friendly
Thoroughly clean sand and debris
An automated device
Easily assembled
Cons:
Not useful for in-ground pools
Cannot be used for non-Intex pools
Frequently need to clean skimmer basket, pool pump and debris net
Not function well on wrinkles pool because of the small wheels
Can only function properly on a smooth surface
Don't use the vacuum for rectangular pools above 18 ft size and round pools above 24 ft.
Point of Action
Intex Auto Pool Cleaner is an amazing device for cleaning your pool. If you desire an automatic pool cleaner, then go for it. Of course, it is affordable.
2. Water Tech Pool Blaster
If you want the best vacuum for Intex above ground pools then consider the amazing Water Tech Pool Blaster. Recently, this product has been advanced for high tech maintenance of above ground pools.

Fully rechargeable with Lithium-Ion battery. One of the cordless and powerful pool cleaners available. It is mostly designed for residential usage. A quick solution to your pool, spa or hot tub maintenance needs.
Features of Water Tech Pool Blaster
Rechargeable device with Lithium-Ion battery model
Quick start and off technology
Comes with a reusable multilayer filter for picking large and small debris
Works up to a straight one hour non-stop
Perfect for pool or spa cleaning application
Pros:
Extraordinary lightweight
Wide vacuum head
Reusable multilayer filter for picking debris
Easy to set up
Last for a longer time
Cons:
May take a long time to recharge battery
Point of Action
Advantages of the Water Tech Pool Blaster cannot be underrated. We have it mostly recommended for pool owners and residential purposes. If you need an easy pool cleaner then jump on this product. Finally this is one of the best above ground pool vacuum for intex.
3. Aquabot Pool Rover Hybrid Robotic Pool Cleaner
Ever wanted a nice pool vacuum for Intex above ground pool? Try the Aquabot Pool Rover Hybrid Robotic Pool Cleaner. It is rated as one of the easiest and effective means of cleaning your above ground pool. All you have to do is immerse it inside the pool and click the start button.
Designed with a strong jet propeller that automatically cleans the whole floor and slopes of your pool within 45 minutes. It has a smart filtration system and an internal pump. So, it can vacuum and filter without pool filters or hoses.
Features of Aquabot Pool Rover Hybrid Robotic Pool Cleaner
Reusable micro filter bag
41 ft. thermoplastic rubber cable
Customizable automatic cleaning robot
Jet-propelled mechanism that effectively cleans both floor and slopes
Works perfectly without supervision
Inbuilt system that gets rid of dirt and debris
Low maintenance
Picks both small and large debris with the reusable bag
Easy to set up
Steady and extra-wide wheels
Pros:
Effectively cleans floor and slopes of above ground pool
Its thorough cleaning can help to cut down bills on electricity and chemicals
Able to clean fast within an hour
Comes with a good warranty
Simple to operate with just a click
Cannot get stuck easily during cleaning
Cons:
Cable can get tangled easily because it does not have a swivel. However, the swivel can be bought separately
Works only in pools with a curved or smooth transition
Point of Action
Note that this pool vacuum is having no rival. It is one of its kind. Give this a trial and enjoy drinking your morning coffee without bothering to supervise the machine at work.
4. Intex Automatic Pool Cleaner
Relieve yourself from heavy cleaning and pool maintenance by using the Intex Automatic Pool Cleaner. This cleaner can be connected to your filter pump and that's just all you need for an effective clean. It is one of the fastest vacuums for Intex above ground pools.
With the use of venturi suction, this device can clear every dirt and debris off your pool floor. Intex pool vacuum creates more time for fun than work on the pool.
Features of Intex Automatic Pool Cleaner
Inbuilt system that cleans pool with much supervision or effort
Needs a filter pump between the flow rate of 1,600 to 4,000 gph
Moves automatically and reverse system to vacuum the whole floor
Best for small pools
Packed with hose of 24ft by 7 that is easily connected to an existing pool inlet
Pros:
Quick and easy to set up
Vacuums fast
Moves automatically in different directions
Cleans pool effectively
Able to pick off dirt, debris, and sand from the pool floor
Cons:
Often hard to connect hose
May stop moving at intervals
Not best for large pools
Point of Action
Pool vacuums with quality features like the Intex Automatic Pool Cleaner are hard to find. Having this on our list goes a long way to tell you it is one of the few best available. Try it on your small pool and see the effect.
5. Pentair K50600 Kreepy Krauly E-Z Vac Suction-Side
Love to get the best Intex pool vacuum, then check out the Pentair K50600 Kreepy Krauly E-Z Vac Suction-Side. A simple, smart and sturdy above ground pool cleaner. Designed with a powerful suction-side mechanism. The machine includes a 32ft hose for easy connection.
Features of Pentair K50600 Kreepy Krauly E-Z
Sleek hydraulic design for maximum vacuuming potential
Design with a flapper. The only moving part of the vacuum
No wheel or gear to service
Uses skimming valve to regulate the flow of water to command cleaning speed
Skims surface and vacuum at the same time
Made with a random pattern coverage for a thorough vacuuming
Pros:
Amazingly beautiful design
Powerful hydraulic vacuum
Zero maintenance of moving parts
Skim water surface of debris
Uses random pattern system for thorough pool cleaning
Cons:
Not recommended for bigger above ground pools
Most time not able to pick large debris
Point of Action
Aside from the listed cons, the advantages of this pool vacuum cannot be overlooked. List the features you want, compare with this and make your choice.
6. Hayward 900 Wanda the Whale Suction
Never want to be disturbed by manual pool cleaning, then choose the Hayward 900 Wanda vacuum for above ground pool. It is an automatic pool vacuum for Intex pools. Integrated with an easy and trouble-free system. You can install this device with any existing filtration system.
No extra pump needed. Installation is fast and done within a few minutes. Hayward 900 Wanda moves in circulation, pulling off water from the bottom as it moves. The machine is a preferred alternative to manual cleaning. Designed by Hayward, the best-rated company for engineered automatic pool cleaning technology.
Features of Hayward 900 Wanda the Whale Suction
Advanced turbine system that offers continuous balancing of water flow
Quiet operations and calm movement across pool floor
Contoured head structure for easy steering pattern
Cleans pool in less than an hour plus instant installation
Has a deluxe bumper ring that reduces friction and aids easy movement
1-year warranty
Pros:
Balanced water flow
Contour head assists the steering pattern to go smoothly
Deluxe bumper ring helps the cleaner to detect pool walls and move away from it
Quick installation/assembling
Budget-friendly
1-year warranty
Cons:
Seem to act a bit heavier on thinner pool linings
Point of Action
On a more serious note, this is one of the noted vacuum cleaners for an above ground pool with nice reviews from consumers. Go for quality. Though this cleaner is affordable its effectiveness is highly obvious.
7. Hayward 500 Aquabug Suction
The Hayward company is one of the best manufacturers of quality Intex above ground pool vacuum cleaners. Again, similarly to Hayward 900 Wander, the Hayward 500 Aquabug Suction is another adventure to experience. An aqua bug automatic pool vacuum that enables easy and free operation.

There is no need for you to empty any debris bag with this device. Its work is just as perfect as its sister model. No need to overuse chemical sanitizers because this pool cleaner gets you covered. If you are determined to keep your pool at it's sparkling best, then stick to the Hayward 500 Aquabug Suction.
Features of Hayward 500 Aquabug Suction
Special turbine mechanism that aids the balancing of water flow
Silent underwater operating system
Smooth steering due to the contoured head
Installs in a few minutes
Works on all surfaces; vinyl, fiberglass, concrete and tiles floor
Bumper ring for easy sensation when close to pool wall
1-year warranty
Pros:
Perfect for water circulation
Keeps your pool clean and sparkling always
Quick installation
Cons:
Tend to cease movement during cleaning operations
Point of Action
Just as stated above the producer is well recognized for a quality vacuum for Intex pools. Get started with this product and see the reason why you should have bought it all these while.
8. POOL ROVER S2 40, US, JET, 115VAC/48VDC
Are you looking for an Intex automatic above ground swimming pool vacuum cleaner? No doubt, the Pool Rover S2-40 is here with the best features you could ever imagine. Don't settle for less. It enables easy maneuvering with its sleek design.

Designed with an adjustable axle pin that helps enhance coverage and alleviates cable tangling. Amongst every other pool cleaners on this list, the POOL ROVER S2 40 is one of the most advanced in aquabot robotic tech. This could be the long-awaited magic your pool needs to stay clean and healthier.
Features of POOL ROVER S2 40, US, JET, 115VAC/48VDC
Filters 80 to 85 gallons of water per minute
Robotic pool that is perfect for any kind of pool surface
Best for above ground pool
Thoroughly clean pool floors, cove, and walls
Has a swivel cable
beautifully designed for easy maneuvering
Portable
Pros:
Swivel plus 40 ft cord for easy clean
Portable and easy to maneuver
Filters good amount of water per minute (80-85 gallons)
Cons:
Not perfect for in-ground pools
Motor guard cage opening is too wide
Point of Action
Seen the best features so far and we know this is going to serve your pool longer and better. Check out the price for yourself – budget-friendly and perfect for above ground pools.
9. Intex Handheld Rechargeable Vacuum
Being the last on our list of Intex above ground pool vacuum cleaners does not mean it is less effective. This remains one of the best among them all. The rechargeable handheld vacuum from the stables of Intex is perfect for cleaning pools and spas.

Easy and conveniently portable for use. Lightweight and has an adjustable aluminum telescoping rod. At the end of the rod are two replaceable brush heads. Sturdy and built with Ni-MH rechargeable batteries. Powerful suction and lasts longer underwater. Protective shut off button to prevent dry running when not immersed in water.
Features of Intex Handheld Rechargeable Vacuum
Powered by Ni-MH rechargeable batteries for powerful suction
Best for above ground pool
Lightweight adjustable telescoping rod
Two replaceable brush heads
Automated shut off button to prevent dry running
Vacuums dirt and debris in a few minutes
Submerged for perfect operation
Pros:
USB cable for easy charging
Lightweight and portable
Integrated with an automatic shut off button
Waterproof switch
Cons:
Must be submerged totally into the pool before it can function well
Point of Action
This powerful product from Intex is currently trending. Rechargeable handheld vacuum for pools is something interesting and you'll love to try it out. Check out the price and get your today.
Guide to Buying Your Intex Above Ground Pool Cleaner
Taking a step to buy a cleaner as a pool owner is a good decision. It makes you a proud owner of your own instead of borrowing from neighbors. Now, you should be more careful so that you don't fall victim to fewer quality products. There are several aspects of an Intex above ground pool cleaner that are important and you need to think about it.
Lightweight model
To ensure that your pool cleaner can be easily maneuvered to get to every part of the pool it does not have to be heavy. Heavier models are pruned to cause sudden or unwanted damage. Look out for cleaners that are below 14lbs. More cleaner experience you can use upright vacuum cleaner.
Scrutinize customer reviews
Always go for honest and verified customer reviews. Always see what different individuals are saying before going ahead to buy.
Don't go after beautiful designs
Attractively designed pool cleaners could lure you into buying a less quality product for your pool. Looks are not everything, check out for quality features.
Ability and capacity of the pool cleaner
Note that some pool cleaners have their limit or maximum space to cover. Check the specification of the cleaner you intend to buy so you don't end up having half of your pool clean and the rest left dirty.
Pool size
Consider your pool size and make confirmations before placing your order. Some cleaners cannot get into narrow parts of the pool. But a smaller one can enter smaller parts and clean up wider pools too. To get a proper size you can choose this.
How often can you use the cleaner
Note how often you are going to need a pool cleaner. Is it going to be weekly, bi-weekly, monthly, quarterly, or what's your plan? Also, put the maintenance into consideration so you don't get disappointed at the end of the day. You can find an excellent guide here.
How to Correctly Preserve Your Pool Cleaners and Filters
Pool cleaners and each of its parts are supposed to be maintained correctly before and after cleaning. Dirty filters and cleaners cannot keep dirty pools clean. You may probably end up recycling the dirt and debris.
Before making use of the cleaner:
Ensure that the filters and skimmers nets are free of dirt and any blocking – both manual and automatic. Wash them carefully with a hose using water and soap. Check the head and also make sure it is clean. Make use of soft bristle brush to clean if necessary. Empty the filter bags to easy pressure. You check rugs and hardwood floors for floors clean.
After making use of the cleaner
Immediately after usage, carry out the same method of cleaning as you did before using it. Allow the cleaner hose to drain out of every drop of water in it. As soon as you are done cleaning, keep it safe in the store or a safe place.
How to clean your cartridge filter
This part of the pool cleaner is very easy to clean. Disassemble the filter and wash it gently with a garden hose. Immediately you are done with this, put it back safely. Note that the filter can last for as long as 3 years if properly maintained.
How to clean a sand filter
Sand filters are great for catching and holding debris in the water when passing through the filter. As the sand filter keeps catching debris it gets fuller and tends to disrupt the flow of water. This automatically increases the pressure. If you allow it to get over 5-10 pounds above the normal pressure, it then tends to wash backward. So, over time, sand particles get worn.
As soon as you can drain the filter tank of its water and remove its multiport valve, make use of a shop vac to get the sand out. Then, wash the tank using a garden hose. Then allow it to drain off. Put back the cover on the drain and put another sand in the tank. Once you fill-up the tank, put back the multiport valve and assemble other parts that were removed. Now, backwash for some minutes to push out the debris and dust. Rinse and turn back to the regular filter position.
How to Maintain Your Pool Properly
It is fun when you have a swimming pool around your backyard or front yard. No matter the fun derived, you still need to have it cleaned up. If this is a regular activity for you, then cleaning up will not take much of your time. Cleaning could be easier when you are using automatic equipment. Follow this guide to learn how to clean up your pool.
Skimming
A manual or automatic pool skimmer can be used for this purpose. You can do this regularly. Note that there are two models of skimmers and you would be needing them.
The first skimmer is used for lightly skimming the surface of the pool. Also, it can be used for picking up bugs that must have died by either chemicals or drowning.
While the other skimmer is a big filter bag that can be used to get leaves from the bottom of the pool.
Vacuuming
Vacuuming activities should take place maybe once or twice a week. You need to make use of vacuums with long handles so you can get across the pool. Or, on the other hand, get into the pool to do it. Vacuuming a pool floor is the same as vacuuming the floor of your house. It doesn't matter how you do the vacuum, the main point is for you to cover the entire floor.

The sides of the pool should be cleaned twice or once a month. As soon as you are done with vacuuming, let the machine sit idle for a few minutes so that you can minimize the dust blown back into the pool. If not, you may have a great deal of dust blown back into the pool if you put on the pump immediately. More conditional vacuum experience check here.
Filters
Generally, there are three kinds of filters and we will be treating them all here briefly. We have the sand, cartridge and diatomaceous filters. However, they all have their advantages and disadvantages.
Sand Filter
This particular filter is the most used around the world by pool owners. They are very effective, reliable and well affordable. Note that you have to replace your sand filter every 5 years. Though it seems to be a tiresome work to do when it is time to change the sand filter. Wet sand is heavy and to perfectly change this, you have to dig out every bit of the sand from the tank. You may start noticing algae growing in the sand after when you are about changing it. So, you have to be ready for the smell as soon as you open up the tank.
Cartridge filter
Cartridge is the most expensive and effective filter. It is almost three times more expensive than the sand filter. However, changing it is quite easy and doesn't take your time like the sand filter. Another advantage is that it keeps water cleaner than the sand and diatomaceous filter.
Diatomaceous filter
Also known as diatomaceous earth filter. It is manufactured with shells of micro sea animals. Diatomaceous filters can filter particles that are smaller than sand. So it cleans better than sand. However, it is organic. So, one of the downsides is that it is biodegradable and seems not to last longer. But, it is expensive too.
Cleaning pump
Pump cleaning is a very easy task to do. All you need to do is put off the pump so you can open the skimmer. Then, remove the basket inside the skimmer, clean and wash it free from debris. Then, fix it back. This should be done in a week. Note that when the basket gets too full, it can clog the intake and the pump will start getting high pressure to suction water through the blocked region.
Salt Water Pools Vs Chlorine Tablets
The combination of chemicals is used to balance the alkalinity and PH level of a swimming pool. For a residential pool size, the average recommended quantity is about 1-3 parts ppm of chlorine. You can achieve this in two ways; either by using a saltwater pool or chlorine tablet otherwise known as a chlorine generator.
Salt Water
Saltwater pools are much easier to keep. In this method, some pounds of salt are turned into the pool and then a chlorine generator is used to electrolyze the salt to generate chlorine in the water. Most of them are having different settings, this makes the pH levels easy to maintain. When this is processed and achieved, the water becomes soft because of the salt. Also, you have to add stabilizers to the pool water. This is a very important element already having chlorine tablets that are not in the chlorine generator.
Chlorine generators are expensive. However, bags of salt are not too expensive but heavy to carry. Besides, salt is corrosive. So you would need to be careful and closely watch the moving parts of your pumping and hose because salt could eat them up. Keeping your pool is not hard but you just have to dedicate some part of your time and effort.
Chlorine tablets
If you want to sanitize your water to keep it free from harmful substances like bacteria you can count on chlorine tablets. These tablets are less expensive and simple to use. Chlorine tablets pool needs high maintenance and you have to carry out a proper test to keep up the pH level to about 7.4 to 7.6. Test with stripes daily to check the alkalinity and pH level. Always have some extra bags of chlorine powder at hand just in case you need a quick add to gauge the right level.
Lastly, you would also need sodium bisulfate to alleviate the pH level when it is too high and sodium carbonate to increase the pH when it is low. Keep an algaecide at reach so you can add to the water when the pH level is out of control.
Keep your pool at its best and you will enjoy having friends, and family around you when it's hot and they need to cool out in your pool. Also, you and your family can have a happy timeout in the pool. Maintaining your pool will make it have a good scent and always look fresh and glittering.
Frequently Asked Questions
How do you vacuum an Intex pool?
An Intex pool can be vacuum by using a standard pool cleaner like the Intex Auto Pool Cleaner or Aquabot Pool Rover Hybrid Robotic Pool Cleaner. The main point is to have a quality pool cleaner to get it done.
How do I vacuum my Intex pool without a skimmer?
This is very easy. You can achieve this by following these steps
i) Make sure your vacuum is prime – meaning take out all the air in it
ii) Attach it to the pump. Vacuum systems function by attaching it to the skimmer inlet which is powered by the suction of the pool mechanism
iii) Now, you can vacuum your pool
How do I vacuum my Intex pool without a skimmer?
This is very easy. You can achieve this by following these steps
How do you vacuum an above ground pool?
To vacuum an above ground pool, you need to make use of a pool vacuum cleaner. Several kinds of pool vacuum cleaners are perfect for this purpose. Check out our list of best above ground pool vacuum for Intex.
How do you clean the bottom of an Intex above ground pool?
Cleaning the bottom of an Intex above ground pool is not hard. All you need to do is make sure you dedicate some time especially for it.
Make use of the Intex Handheld Rechargeable Vacuum to thoroughly clean the bottom of the pool and walls. Remove all forms of dirt, debris, algae, and other unwanted materials. Ensure to rinse off your cleaning materials after cleaning.
Conclusion
Having a swimming pool in the compound is what many individuals dream about. Now that you can get a nice above ground pool, try as much to follow up with the proper maintenance and right cleaning tool to make it stay clean and sparkling for you.